The season outside the house doesn't change as much as I would like, since I'm a mid-westerner living in Florida, so I'm trying to create a new season indoors instead. The Publix grocery store near our house is selling decorative bundles of wheat next to the pumpkins and gourds in the produce department, so I used 3 wheat bundles and a straw wreath frame to create this harvest wreath that I now have hanging on the wall above my sewing machine.
Three bundles of wheat almost covered the full frame, but a 4 inch gap was left and I didn't want to go out and buy more wheat for such a small space. Luckily, I had that little bunch of dried strawberry corn (it came with instructions on how to use it as popcorn in the microwave and I had planned to do that with Blaze). That turned out to be just the right size to fit the hole on the wreath and it added some color. The dried yellow strawflowers were from the garden I had this past summer.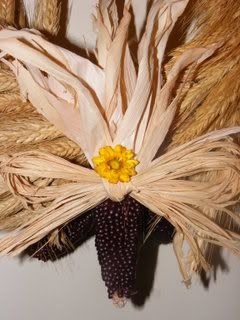 Speaking of the garden, the bean plants have started to sprout around the tepee/trellis.
Blaze took this picture while I was watering the garden last night and I think it looks very artsy.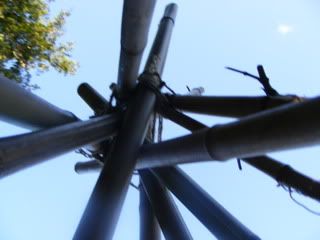 It's looking straight up from the center of the tepee.