This is one of my favorite cake recipes. It is quick and easy. It also works equally well with cocoa powder or carob powder.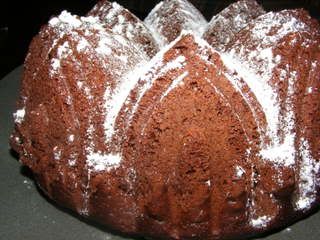 Crazy Cake
1 1/2 Cups unbleached white flour
1/3 Cup unsweetened cocoa powder
1 tsp. baking soda
1/2 tsp. salt
1 Cup sugar
1/2 Cup oil
1 Cup cold water or left over coffee that has cooled
2 tsp. pure vanilla extract
2 Tbsp. vinegar
Preheat oven to 375 degrees.
Mix everything together, leaving the vinegar as the last thing to be stirred in, because that is what activates the leavening. Bake for 25-30 minutes.
This recipe makes only one layer of cake, so it will need to be doubled if you plan to make a large sheet cake or a double layer cake.
This was DH's birthday cake, that we served today.

Ula's Perfect Pudding: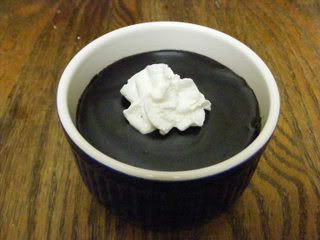 3/4 Cup sugar
1/3 Cup Cocoa powder
3 Tbsp. corn starch
1/4 tsp. salt
2 1/2 Cups milk
1/4 cup of semi-chocolate chips
1 1/2 tsp. vanilla extract
In a sauce pan, mix sugar, cocoa powder, corn starch , and salt. Place the sauce pan on medium heat and gradually whisk in the milk ( soy milk will also work). Bring the mixture to a boil. Remove from heat and add the chocolate chips and vanilla.
Spoon pudding into small bowls or cups and let cool before eating. A skin will not form on the top of the pudding if you place a piece of plastic wrap over the bowl with the plastic touching the surface of the pudding.
This is very rich and chocolaty tasting.