I've Been Playing With My Food Again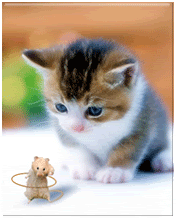 This time I've been trying to think of all the foods that can be molded into fun shapes.
Here are the ones I've come up with so far: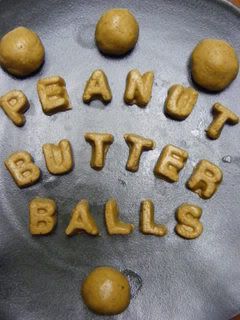 1 cup of creamy peanut butter
1/2 cup honey
1/2 teaspoon vanilla
1 1/2 cups of powdered milk
Mix everything together and kneed with your hands until it reaches a play dough-like consistency.
The peanut butter can be rolled in your hands to make the traditional ball shapes, or I used candy molds to make the letters and shapes.
The tree was cut out with a cookie cutter
Peanut butter balls can also be frozen for future use.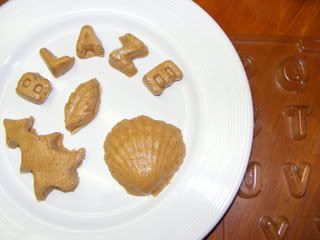 Mashed Potatoes
As was proven by the movie Close Encounters of the Third Kind, stiff mashed potatoes are very moldable.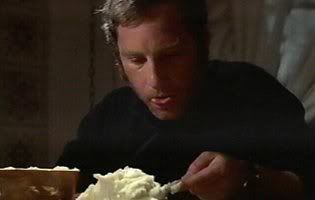 I used cheesy mashed potatoes for these shapes, but regular left over mashed potatoes will hold their shape even better. The cheesy mashed potatoes that I shaped and then placed on the cookie sheet to bake did not hold their shape well, but when baked in the shaped muffin cup, they held their shape very well. I don't think I can say often enough how impressed I am with my new silicone bake-ware!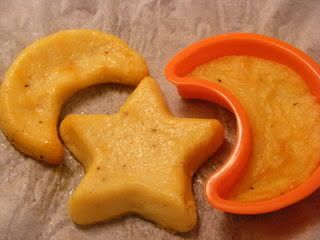 Cheesy mashed potato shapes
4 Cups plain mashed potatoes (still warm enough to melt butter and cheese)
1/4 cup butter
1 Cup grated sharp cheddar cheese
salt and pepper to taste
Mix everything together. When it is cool enough to handle, pat into the muffin cups and bake at 350 degrees until they start to brown on top.
They can be frozen and reheated.
You could also just form shapes or roll into balls and eat right away without baking.
Sticky Rice
Sticky rice can be formed into just about any shape using molds, cookie cutters, or your hands that have been dampened and sprinkled with salt.
The most common shapes for these rice creations (onigiri) are balls or triangles. Both can be formed in your bare hands, but we found a mold for the triangles in one of the Asian markets we went to in Orlando.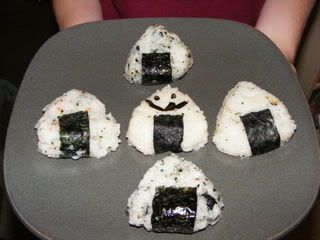 Sticky rice can be colored with food coloring or dry seasonings, or it can be decorated with a sauce.
The traditional way to flavor rice balls and give them a little color is with a dry seasoning mix (furikake) that can be mixed into the rice prior to molding or sprinkled onto the rice. Asian grocery stores sell packets and shakers of furikake. Many of these contain fish.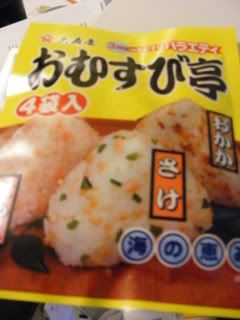 The one we purchased has salmon in it and is very tasty, but Ula and Nika are both vegetarians, so I also made a homemade batch of furikake without fish.
Vegetarian Rice Seasoning
2 sheets of nori
soy sauce
2 Tablespoons sesame seeds
1/2 teaspoons roasted garlic powder
1 teaspoon course sea salt
Preheat oven to 350 degrees
Spray on or brush soy sauce onto both sides of the nori
In an oven safe pan or small baking sheet, toast nori and sesame seeds in the oven for 6-8 minutes, or until the nori is dry.
Grind everything up together in a food processor.
Store in air tight container.
I sprayed my soy sauce onto the nori with this little atomizer that I found in the health and beauty/travel section of Target for $.89.
I bought this to keep soy sauce in, so that Blaze could put soy sauce on his own rice without dumping too much on.
Rice Krispy Treats: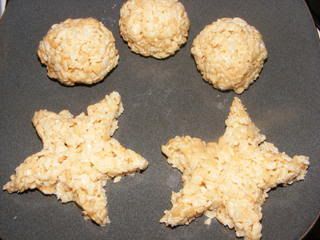 The recipe can usually be found on the box of Rice Krispies cereal
Canned Corned Beef Hash
Place 1 cup of unbleached white flour in a bowl
Using a handful of hash at a time, kneed the hash into the flour and then form the shape you want. The ice cream sandwich molds worked very well for this.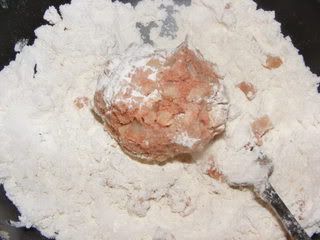 Coat the outside of the shape with flour, as well.
Fry in vegetable oil until brown and crunchy on both sides.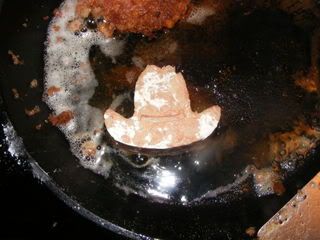 Blaze's cowboy breakfast.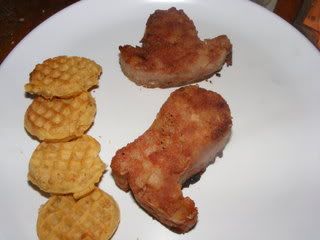 Roll Dough
:
Bread dough is very moldable, but it must be baked in a mold in order to hold it's shape properly through the rising and baking process.
My favorite dough recipe:
Refrigerator Roll Dough
1 package ( 1 Tablespoon ) active dry yeast
1 1/2 Cups warm water (105 to 115 degrees)
1 Cup unseasoned lukewarm mashed potatoes
2/3 Cup vegetable oil
1/3 Cup honey
1 1/2 teaspoon salt
5 to 6 cups unbleached white flour
This is a good recipe to make on a night when you are making mashed potatoes for dinner. Before seasoning the potatoes, reserve 1 1/2 cups of the potato water and 1 cup of the plain mashed potatoes.
In a large mixing bowl, combine the yeast and water. Then add everything else, first mix with a spoon and then kneed by hand. Add flour as necessary, until it becomes a good pliable dough. Form the dough into a large ball and oil the outside of the ball, so it won't dry out while rising. Cover and place in the refrigerator over night. The dough can be kept in the refrigerator for up to 3 days. The dough does not have to be baked all at once. You can bake just what you need for each meal. Punch down dough before using. Bake at 350 degrees until golden brown.
I use this dough for everything. It makes great cinnamon rolls. If a little nutmeg is added, it is perfect for hot cross buns. Fillings can be added to turn it into sweet rolls and it can be rolled around hot dogs or sausages to make "pigs in a blanket".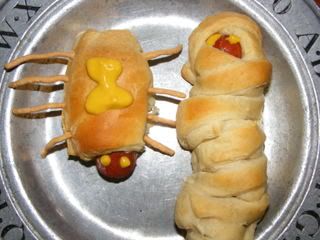 I think I'm scaring my family with this molded food obsession. "When will this madness end!" Joked DH last night. Then he and Ula started talking about some kind of "shaped food intervention".
Sculpting food into shapes is not a madness, it is an ART!