Since yesterday was Friday, our homeschooling day, Blaze and I were able to do a big project together in the afternoon. We used the cardboard from the back of the large pad of construction paper, lots of Elmer's glue, and things from nature to make a little garden scene for the nature table.
Here was our artist's pallet:
First we used a ruler and pencil to make out where the paths would be. Since we had been to the corn maze last weekend, Blaze wanted one side of our tiny garden to be a maze, but he had trouble drawing one, so I ended up drawing the lines for that, Then we outlined the pencil lines with glue and made glue rows in the vegetable/flower garden.
Blaze then placed broken pieces of sticks around the vegetable/flower bed as a boarder and filled in all the rows using dried flowers, peas, Indian corn, wheat,anise stars,moldable bees wax, pine cones, and the seed pods from the Sweet Gum trees.
For the maze, he glue on dried moss as bushes and we cut raffia into small pieces to use as a path covering (we said it was hay).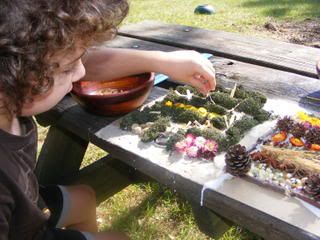 Finally, we covered all the remaining paths with a thick layer of glue (maybe too much glue, if you notice the tiny river of glue running off the table in front of Blaze) and sprinkled sand over the glue.
When it was dry, I shook off the extra sand and placed it on the nature table, where Blaze was able to play with it last night.
The path through the maze turned out to be too narrow for the bendy dolls and Blaze was a little disappointed at first, until he discovered it was the perfect size for the little clothes pin doll (Native American) he had made at school last week.