My mother always had Kool-Aid in the house when I was growing up. She couldn't afford to have us drink juice every time we got thirsty, but Kool Aid was cheap. The first money I ever earned was probably from a Kool Aid stand and Kool Aid was what I used to bribe the neighbor kids into mowing the lawn, which was supposed to be my chore. But, I don't want my own children to have that much sugar and artificial color, so I hadn't bought Kool Aid for years, until I discovered Kool Aid as a dye. Kool Aid, it turns out, is a fruity smelling, child safe dye for any fiber that comes from animals. This means wool, mohair, silk, and human hair ( although not over dark colored hair).
Just before Christmas last year, I got the greatest deal I could ever imagine at a thrift store. An entire bolt of cream colored silk for $4.25!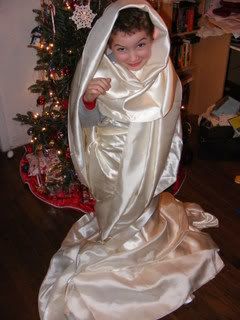 So, starting right after Christmas, my obsession became Kool Aid. I checked all of our local stores for exciting flavors, but found that only one store had a good selection. If you are in Florida, the best Kool Aid selection is at Sweetbay.
Here is what I collected: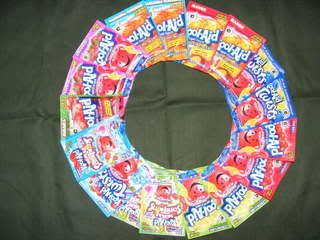 The first step in this process is to soak the silk in warm water with a splash of vinegar added. I cut off 1 yard of fabric for each of these projects.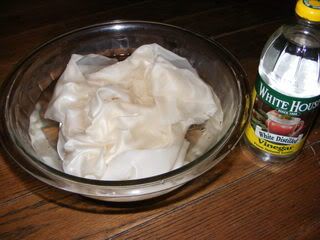 Next, mix unsweetened Kool Aid powder with hot water (ratio:1/2 cup of water to each pack of Kool Aid)
I had read that for dying wool yarn that the ratio of wool to Kool Aid was 1 ounce of wool to 1 pack of Kool Aid, so I weighed my silk piece before trying this. My silk was 27 inches by 36 inched and weighed 1.7 ounces, but I found that it took 2 packs per ounce to get a good color.
I used old peanut butter jars to mix the colors, because I could shake them, but I think something bigger should be used for the actual dying, because the fabric being squished into the jars made the colors come out uneven.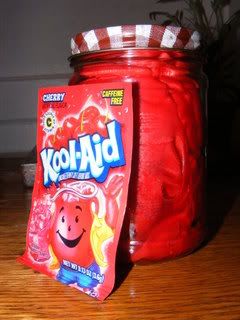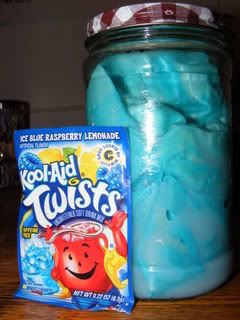 After the cloth has soaked up most of the color from the Kool Aid water, the silk will need to be streamed for about 20 minutes to set the color. I did this right in the peanut butter jars by setting them in a large pot with some water in the bottom.
The blue turned out very uneven, so I gave it a second dye bath in green and I really like the effect. It looks very intentional. I used a mixing bowl to mix the green and dye the cloth and the bigger bowl did help.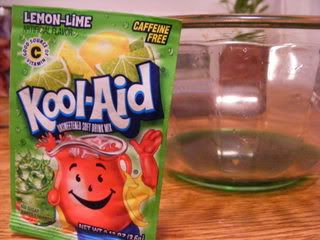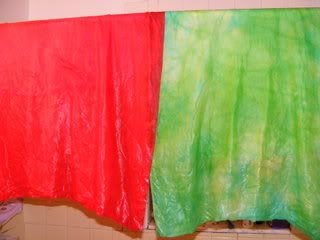 Rinse the fabric in clean cool water until the water comes out clear. Then hang the fabric up to dry, but don't let two different colors touch, like I did, because the brighter color will bleed onto the other a little.
Once you iron the cloth and finish off any fraying edges, you have beautiful fabric to sew with or as playsilks for children. Blaze claimed the red one before I even had the hem sewn.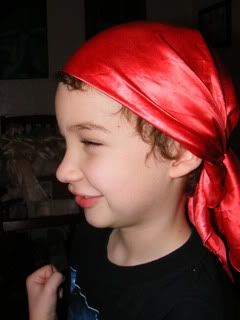 ooooh, scary pirate!
I also tried a piece of tie dyed silk.
Rubber bands borrowed from Blaze's GeoBoard