We had a very exciting day yesterday!
Blaze was feeling very shy about meeting Santa in our common room. He had no doubt that this was a fake Santa and he said he was scared. This wasn't helped much by the baby in line ahead of us pulling down Santa's fake beard. I think this Santa also has tired, almost sad looking eyes.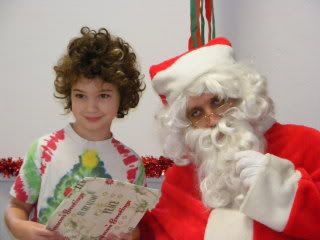 Santa gave each child a gift, and Blaze was very pleased with his, a cheap plastic helicopter toy which he had a lot of fun playing with until it broke about a hour later.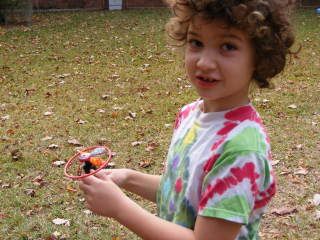 Just as we entered our apartment door, the phone rang and it was Ula calling to wish her brother a happy birthday.
Next we went tree shopping at Littlewood Elementary School's Christmas tree lot. This is their big PTA fund raiser every year. The boy who was working in the lot was extremely helpful. He even told us we could take all the tree trimmings we wanted, so I may try making a wreath today if I have time.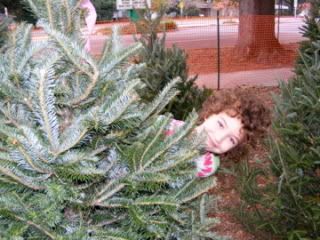 By the time we got home, we were hungry, so it was time for snacks and cake.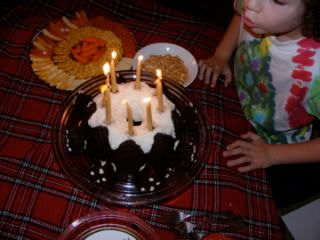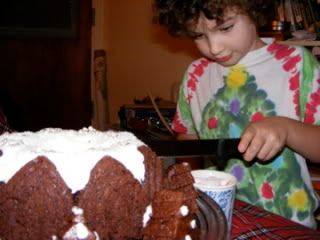 And gifts: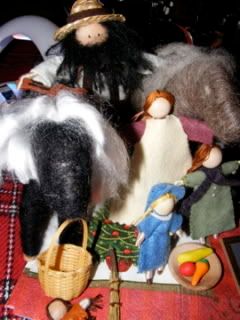 Blaze got all the things we had received so far from the
Little House on the Prairie
bendy doll swap, plus the two needle felted horses I made. He also got a "Rainbow-in-my-room"(rainbow projector), a copy of the movie
Prince Caspian
, and a stainless steel tea pot (so he can practice pouring).
Once we had cleared the table, it was time to set up the tree and decorated it. This was not without stress, because we got the strings of lights all tangled up and Nika and I had to spend quite awhile putting them on the tree, taking them back off the tree, untangling them, and then putting them back on the tree, but once that was done the decorating went very well if you could tune out Nika's complaints about Christmas trees in general.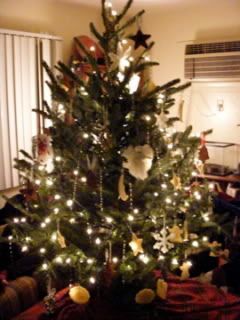 Then Blaze and I went off on our own to the city's tree lighting festivities. It was held in the Thomas Center,a beautiful old Victorian Mansion, which is now used for special events. It was really magical!
There were Christmas cookies and apple cider being given out in a room where costumed carolers were preforming.
Then there were horse-drawn wagon rides through the nearby "Duck Pond Neighborhood" to see the Christmas lights on the houses and all the streets lined with white paper bag luminaries.
A women's choir sang on the veranda as we waited in line for our turn on the wagon ride and the little girl in front of us, was interviewed for the evening news.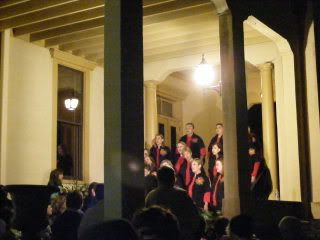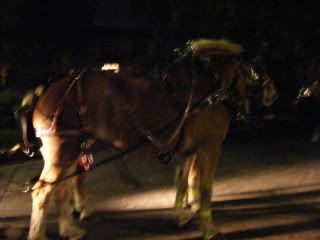 After the wagon ride we went back inside and spent a long time watching and listening to a hammer dulcimer player. Blaze was so fascinated by how the instrument was played that the musician let him come around behind him to get a better look and explained that he and his wife had built the dulcimer themselves and that he had taught himself to play by making sheet music that slid under the strings, just like we have for the little lap harp at home.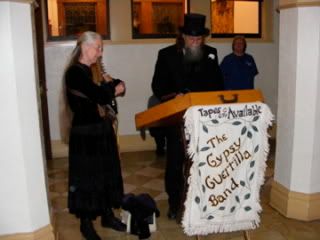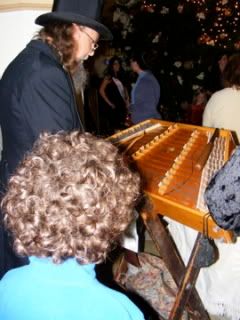 Every Christmas party seems to have it's Scrooge. In this case it really was supposed to be Scrooge, who went around complaining about Christmas and offering the children low paying jobs with long hours.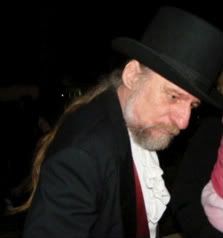 I had no idea we had so many beauty contests around here, but the beauty queens were all in attendance last night.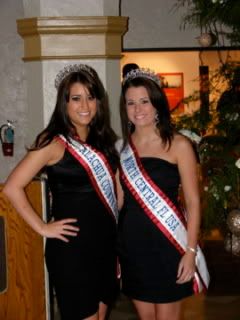 Then Santa Claus arrived. Blaze says this is the real Santa and I think I believe him.
Santa presided over the official lighting of the tree, but at that time we were already in line to meet him in the next room. This picture is from when they were testing the lights about an hour earlier: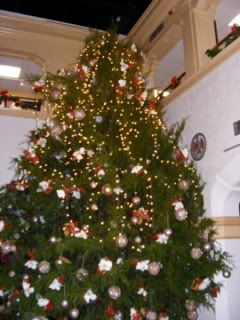 The Mayor, Pegeen Hanrahan, also arrived with her little girl, and was interviewed right by where we were standing in line.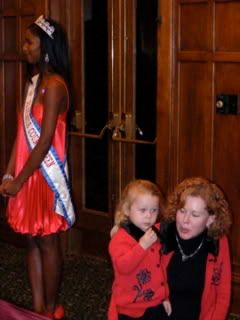 I was so impressed with Santa! Meeting him was definitely the high point of Blaze's day. He so obviously loved children and was so genuinely himself. The beard was real. It was hot in the room so his cheeks really were rosy and he took off his heavy red coat. There was none of the over-the-top ho, ho, ho laughter. He just seemed to be enjoying himself.
He took time to make each child comfortable and talked to them.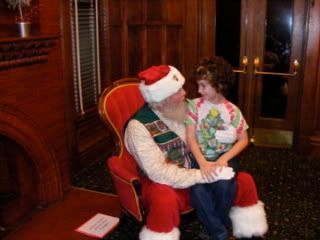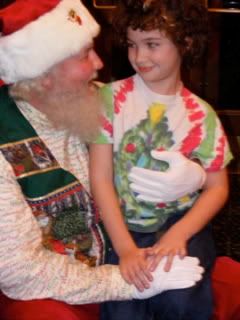 As we were about to walk away. I told Blaze to remember to thank Santa Claus and he ran back to him and gave him this big hug and said thank you.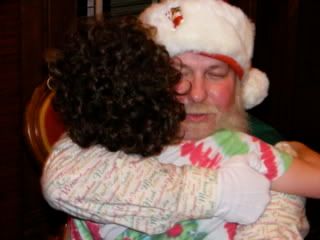 On the way out to the car, Blaze told me that Santa made him feel good inside.