Here is my finished toy for The Toy Society's Christmas Toy Drop:
I made the little gingerbread house out of felt, using the (baking) gingerbread house pattern from the King Arthur Flour website and then adding a floor to the pattern.
http://www.kingarthurflour.com/stuff/contentmgr/files/7512947c75dd4ce76f3a611041c1fe40/miscdocs/gingerbread.pdf
I did my toy drop this evening, just before sunset, because we will not be in town this weekend. I left it at West Side Park, but I didn't want it to be near the playground, so I left it on a bench along the Solar Walk (proportionally spaced statues of all the planets in the solar system).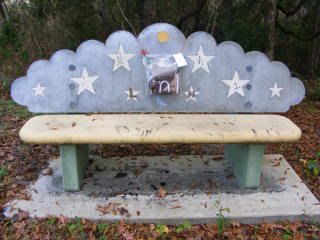 I figured that by placing it in a more out-of-the-way place, it was more likely that a singular person would find it, instead of a whole group of children.
The bench is located between Jupiter and Saturn.