This past Sunday was our last weekend day before we leave for vacation, so we had some of my favorite holiday foods for dinner, roast beef, Yorkshire pudding, and this vegetable wreath: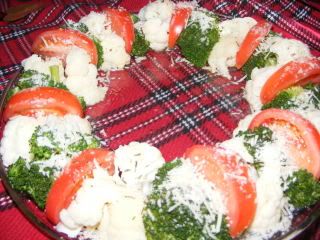 Microwaved Vegetable Wreath
1 head of Cauliflower
1 bunch of broccoli
1 tomato
1/3 Cup butter
1/4 teaspoon thyme
1/4 teaspoon garlic powder
1/4 teaspoon salt
1/4 Cup Parmesan cheese
Wash (do not dry) and cut cauliflower and broccoli florets into similarly sized pieces and arrange on a glass dish so that the colors alternate around the outside of the dish, forming the wreath. Sprinkle with 2 teaspoons of water, cover with plastic wrap and microwave on high for 10-11 minutes.
Place butter, thyme, garlic powder, and salt in a glass measuring cup.
Cut the tomato into wedges.
When the vegetables are done, remove them from the microwave and carefully remove plastic wrap (always pull back the plastic on the far side of the dish, facing away from you, first, to prevent steam burns).
Microwave the butter mixture for 1-1 1/2 minutes on high, until the butter is completely melted.
While the butter is melting, add the tomato wedges to the wreath, placing them skin side up, evenly spaced, wedged between the other vegetables.
Microwave the vegetable platter uncovered on high 1-2 minutes until the tomatoes are hot, but not really cooked.
Stir butter mixture well and drizzle over the vegetables. Sprinkle with Parmesan cheese and serve at once.