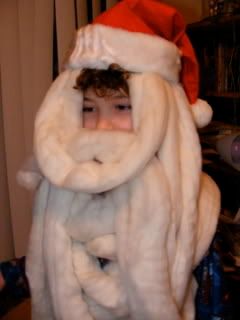 (Maybe there should be a Pirates of the Caribbean Christmas movie. He looks a little like Davy Jones in a Santa hat).
This week's "Unplugged Challenge" theme was "fluffy", so Blaze and I got out the big fluffy bag of wool roving (although, I think just playing with Blaze's hair would count as "fluffy" right now).
We made wool angels to hang on the Christmas tree.
We started out with a piece of roving that we tried in a knot to make a ball to be the inside of the angel's head. Then we placed the knot in the center of a longer piece of roving and tied off the head with white embroidery floss.
The arms were made of a white pipe-stem cleaner, cut in half so that each pipe-stem cleaner made 2 sets of arms. The pipe-stem cleaners were then wrapped in wool.
The arms were placed between the layers of roving and the waist was formed by tying another piece of floss around the angel's middle (this also holds the arms in place).
Fullness can be added to the angel's shape by using two more strips of roving that are crossed over the chest and tried at the waist. Leave extra string at the back after tying the waist this time and that can be used to tie on the wings.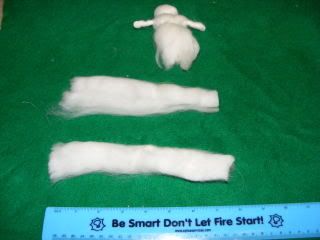 The wings are just another piece of roving tied in the middle and fluffed into a wing shape.
The halo is a piece of silver embroidery floss, held on with a spot of glue at the back of the head. A circle of yellow felt, glued on would also make a good halo.
Blaze's angel was then ready for the tree:
I added hair to mine by needle felting some shiny rayon fibers to my angel's head.