In preparation for out trip, our big project yesterday was making a travel journal for Blaze.
1.
We started by folding pieces of white paper in half and creasing them to make the pages of the book. After these were stacked evenly, I used the sewing machine to sew down the length of the crease to hold the pages together.
2.
We cut out 2 pieces of brown paper the same size as the full, unfolded, white paper, and two pieces of cardboard, slightly larger than the white papers when they are folded in half. Decorative paper can be used instead of the brown paper, and thicker cardboard can be used for a more sturdy book. We used the cardboard from a cereal box, because of the ease with which it can be cut.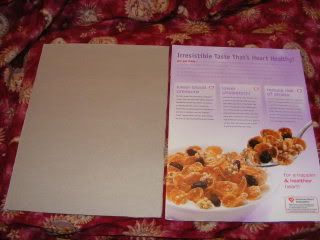 3.
Next, we chose some fabric we wanted to use as the book cover, and cut a piece about two inches bigger on all sides than the two pieces of cardboard laid next to each other. We didn't really measure the fabric. We just laid the cardboard down on top of it and cut the fabric bigger than the cardboard.
4.
Blaze covered one side of each piece of cardboard with glue, glued the pieces side-by-side onto the center of the cloth, and smoothed out any wrinkles.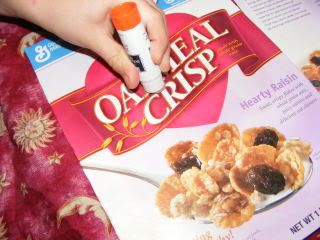 5.
Glue was then spread on the extra fabric and it was folded over.
6.
The cardboard that was not covered with fabric, was then covered with glue and the folded brown paper was attached to it, in the way shown in the picture below.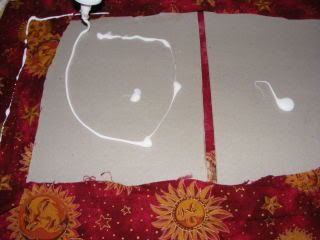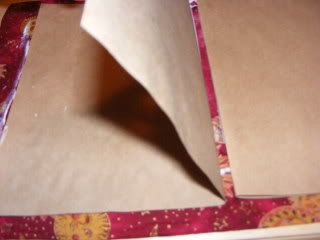 7.
The remaining half of each piece of brown paper was then glued to the white paper (one to the front page and one to the back page). This completed the construction of the book.
All that was left was to make a title page:
Blaze doesn't really enjoy writing much yet, but I saw an idea that I want to try, where the child keeps a journal using mostly drawings and cut out pictures to record what they've done each day.