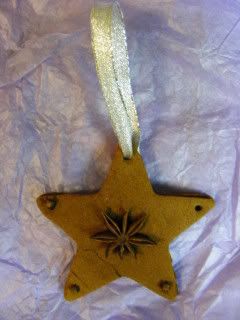 Blaze and I made a batch of cinnamon ornaments yesterday afternoon. This was the first time we had ever made these, but it won't be the last, because they were so easy and they smell so good!
Cinnamon Ornaments
1 Cup apple sauce
1 1/2 Cups ground cinnamon
1 teaspoons ground cloves
whole cloves, anise stars, and allspice berries (optional)
Ribbons or strings for hanging
1. Measure out 1 Cup of apple sauce into a large mixing bowl.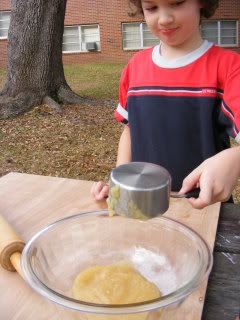 2. Add 1 Cup of powdered cinnamon (one 3 ounce container hold about one cup. I found 3 ounce containers of cinnamon at the $1 store)
3.Add 1 teaspoon ground gloves to add a spicier smell to the mixture.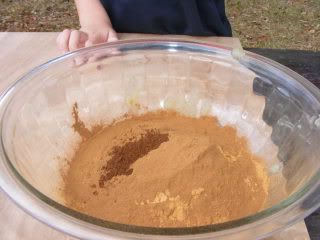 4.Mix gently. The powdered cinnamon tends to want to fly everywhere.
5. Slowly add 1/2 Cup additional cinnamon, stirring well until it is all incorporated into the "dough". When it gets hard to stir with a spoon, use hands to kneed like bread dough.
6. Sprinkle a work surface with cinnamon to keep the dough from sticking and roll it out to about a 1/4 inch thick.
7. Use cookie cutters to cut shapes out of the dough.
8. Place the cut shapes on a baking sheet covered with wax paper and use a tooth pick to make a hole in the top of each ornament. The ornaments can be decorated at this point, by pushing whole spices, like cloves, allspice berries, or anise stars, into the soft dough.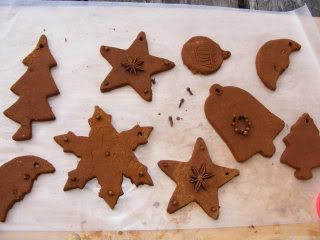 9. Bake in an oven set to the lowest heat setting for 2 hours.
The baking ornaments added a wonderful holiday smell to our apartment.