Happy Winter Solstice!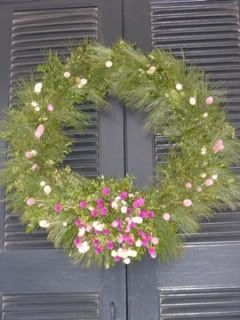 We had an exciting afternoon yesterday! We entered Virginia around 11:00 a.m. and stopped at the Welcome Center to pick up lots of tourist literature and ask directions.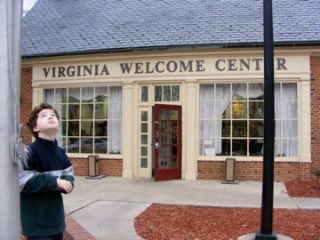 Then, we crossed the James River on a Ferry, which Blaze found very exciting, because we got out of the car and walked around during the crossing. People were feeding sea gulls off the back end of the ferry.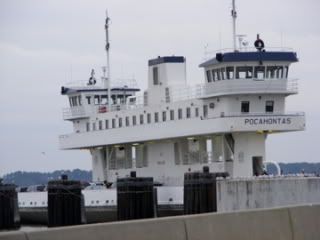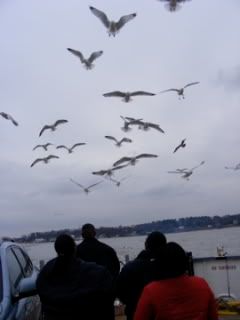 We drove past Jamestown as soon as we drove off of the Ferry and could see the ship, the Susan Constance, quite clearly.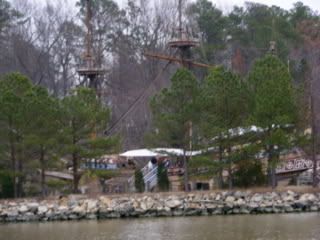 We arrived so late in the day that we didn't use our tickets into Williamburg today, instead we had a nice time exploring and taking advantage of free holiday entertainment.
Even without being able to go into any of the historic houses, there was lots to see.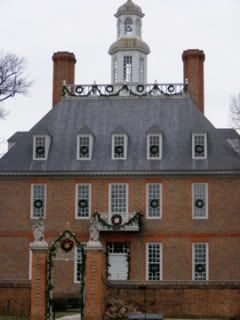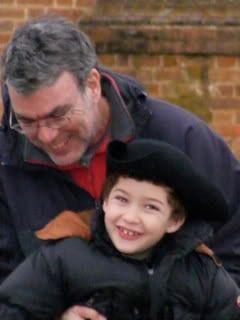 Father Christmas wandered the streets, talking to the children, and we watched part of a two man production of
A Christmas
Carol
preformed on a tiny movable stage.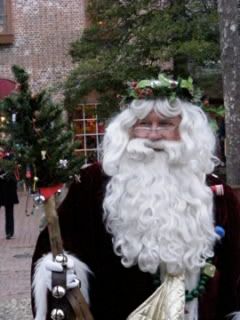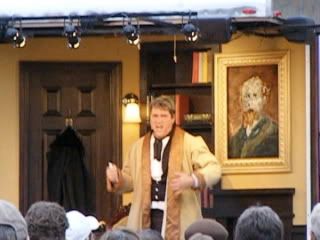 In the evening, there was "the illumination of the Palace Green", in front of the Governor's Palace.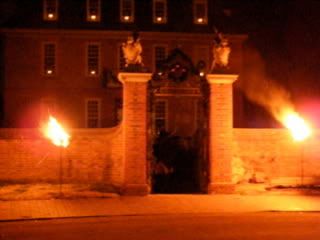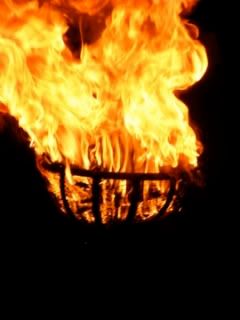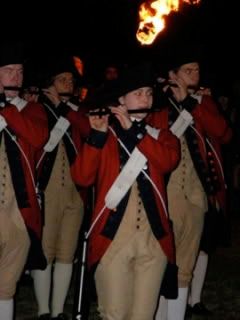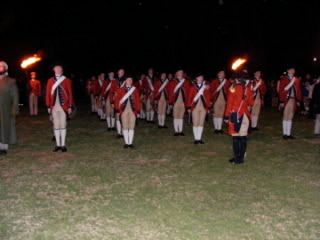 Baskets of wood were ignited in front of each house around the Palace Green, while a voice announced over a loudspeaker, the colonial history of the house and the family that lived there. A firing of muskets also accompanied each fire lighting.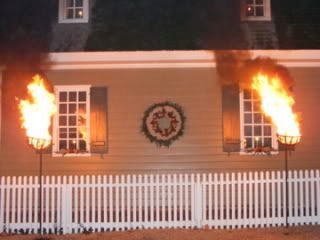 After the Illumination, there was a Christmas carol sing-a-long led by a Baptist church choir, with song sheets handed out to the people in the crowd, so we could all follow along. Immediately following that, there was a candlelight Christmas concert in the Bruton Parish Church.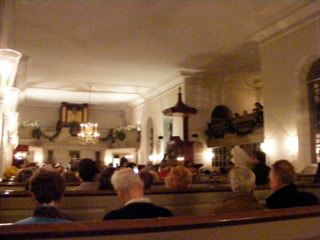 By that time, Blaze was very tired and had started leaning on my shoulder with his eyes closed during the music, so we only stayed until intermission and then headed to our hotel.
It's cold and rainy today.