Blaze is all packed and ready to go. The rest of us are not.
We're going to be gone for 8 or 9 days, so the suit case is stuffed to bursting with warm clothes, since we are going North.
He is also taking the play mat that I made for his 7th birthday, the bendy doll tepee, and a bunch of the bendy dolls.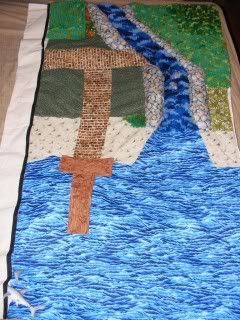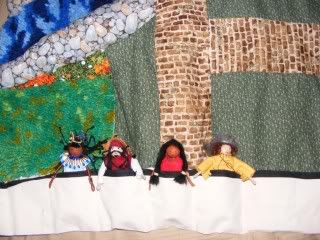 The basket is going to sit next to him on the car seat and is full of things to keep him busy on the very long days of driving (we're expecting 9 hours of driving tomorrow).
The basket contains the travel journal, the block beeswax crayons, modeling beeswax, the Leapster electronic game that I got for $2 at the school yard sale, a sticker map of the United States, a magnetic "make a face" game, glue, scissors, and colored pencils. I'm going to take a clipboard and a bunch of blank paper too.
I have most, but not quite all, of the gifts wrapped and Blaze's school backpack stuffed with stocking stuffers.
DH has gone to get the oil changed in the car and to pick up our tickets to Colonial Williamsburg at AAA.
So, while he's gone, I need to go water the garden and then put the final touches on the gift I am making him. Then I will work on getting myself packed.