This is one of my mother's Easter traditions that I have continued with my own family.
It starts with two round single layer cakes of any flavor. We usually use chocolate.
One cake is left fully intact, while the other is cut into three parts, as shown in the picture, to make the rabbit's ears and bow tie.
The cake is then assembled on a rectangular tray or foil covered cookie sheet and frosted with buttercream frosting.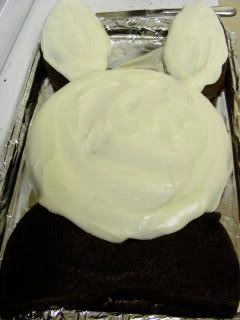 The face and ears of the bunny are then covered with shredded coconut which is pressed into the frosting. Eyes and polka dots for the tie are made from small jelly beans. The rest of the bunny's face is made with licorice and a triangle of chocolate for the nose.
My mother's version of the cake uses gum drops for the eyes, nose, and polka dots, but I like jelly beans better.