Our garden is very close to the University bat house. As a matter of fact, our garden is directly under the path that the bats take as they leave the bat house each night (free organic fertilizer falls from the sky).
Front row seats: A hawk sitting on some branches above our garden waiting for the show to begin:
This was the bat house at sunset last night, as seen from the student gardens: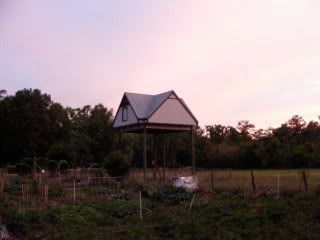 And here come the bats:
Tourists line up along the fence next to the sidewalk to watch the bats, but I was one of only three people watching them from the gardens, and I think I had the better spot for the show, because I was much closer to the non-human visitors.
For the hawk and owl, this was all-you-can-eat dinner theater.