This is always a fun question:
What new thing have you learned lately?
Here is my silly answer,
I learned that the plastic molds for Easter Egg Shaped Jello Jigglers work well as rice molds.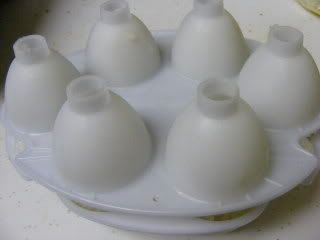 So, now I have savory Easter Eggs that don't contain egg (for those people like Ula, who are allergic to eggs).
I have taken today off from work, so Blaze and I can go with DH to Kingsley Plantation on Fort George Island, just north of Jacksonville. DH is giving a talk there to people from the Audubon Society.
Here is a picture of one of the bento lunches we are taking with us:
The rice eggs are sitting in a nest of rice noodles with soy sauce. The tortilla roll-ups are filled with a mixture of a can of pink salmon, a little onion, and a half package of cream cheese, mixed in the blender until smooth.
The tiny flower shaped crackers, sprinkled everywhere, are rice crackers from the Asian Market.