Thursday night we spent the night at a Holiday Inn in St. Augustine. It was a dark and stormy night...
But, we woke up to a beautiful, sunny morning, the kind of morning that makes people want to move to Florida. Blaze was very excited about the motel pool and went for his first swim of 2009.
We have been to St. Augustine several times, including our honeymoon, but Friday was the first time we ever visited the Fountain of Youth Archeology Park.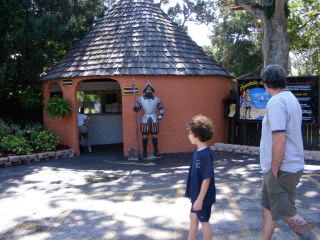 There really is a fountain. It is a mineral spring that does not make you younger, but the natives did seem to have longer life spans than Europeans back in 1513 when Don Juan Ponce de Leon found the fountain.
We chose the perfect day to visit the fountain, because it was on that day, April 3rd, 496 years ago, that Ponce de Leon claimed the continent of La Florida for Spain. He had arrived during the Easter Season, when all the Spring flowers were in bloom, so the name La Florida means " The Land of Flowers".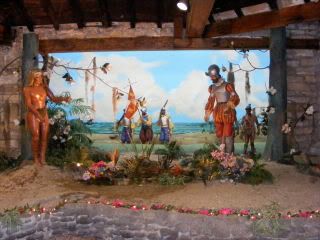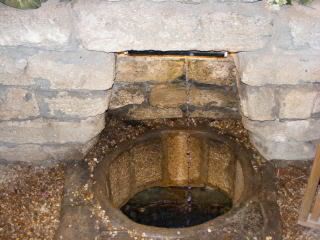 Tourists are given drinks of the water in little plastic cups, although now the water is filtered.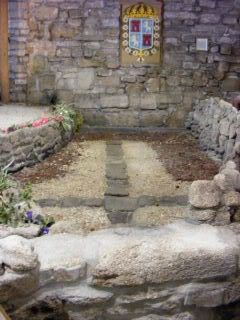 This cross of stones, next to the fountain, was placed in the ground by Ponce de Leon and his men.
Besides the Fountain of Youth itself, the park contains one of the country's last manually operated planetariums, which showed us what the sky would have looked like when Ponce de Leon was here and explained how the stars were used for navigation.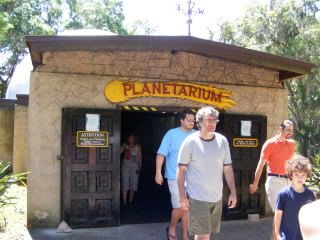 There are three buildings with guided shows, the Fountain of Youth, the planetarium, and a building that houses a two-story tall globe:
The park is also the site of the first Indian Christian burials in the New World. Although archeologists did uncover the bodies, they were re-buried with a propped Catholic service.
There was a small display that showed and explained local building material: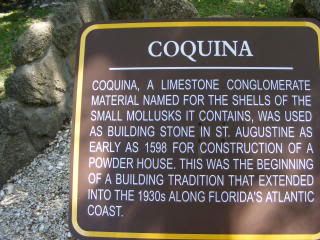 The near-by Spanish fort and many of the older buildings in St. Augustine were built out of coquina.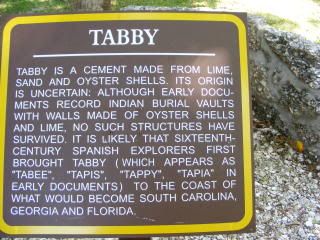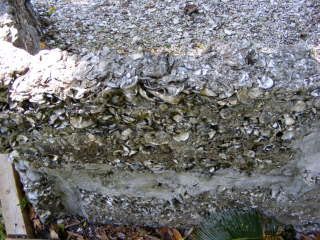 This was the building method used for those slave cabins at Kingsley plantation.
These beautiful birds wandered freely all over the grounds. I had never seen albino peacocks before. When their plumage is all fanned out like that, it looks like it's made of lace.