I am participating in a new group blogging project this week, called Corner View. It's hosted by
Spain Daily
, which is a lovely blog about life in Spain. I just discovered Corner View last week, when participants from all over the world were sharing what they ate for breakfast. This seems like such a simple subject, but it was a lot of fun to read how breakfast differs from person to person.
This week's subject is "modes of transportation", so here are some of the modes of transportation we used in the last week.
This is our daily mode of transportation, a maroon colored, 1998 Toyota Corolla (it really needs washing).
The stuff in the trunk of the car.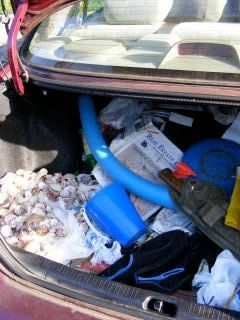 We've been driving around with all those shells in the trunk since our trip to Sanibel Island last Summer.
For Blaze's 6th birthday I made a toy pirate ship for him, along with a set of bendy doll pirates. The navigator from that set has become our road trip mascot. This is our navigator, Gaspar Perdido: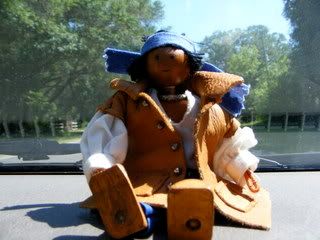 This was a strange scene I photographed as we were driving around Orlando (men dressed as Confederate, Civil War soldiers)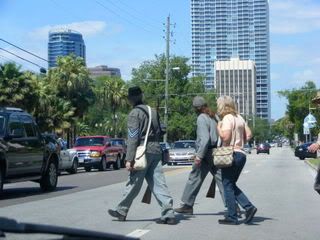 This past weekend, after the two hour drive to Orlando, we used some other forms of transportation. This is the bus that took us from our hotel to the Walt Disney World Park, Epcot.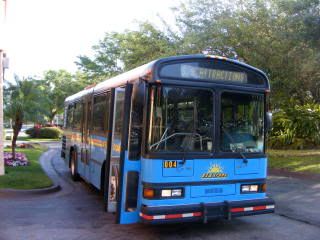 Blaze riding in the back of the bus: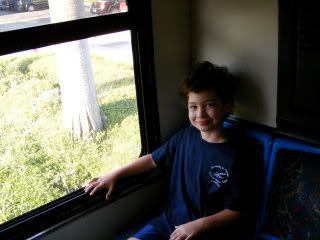 Sunday afternoon, we went back to Lake Eola because Blaze had been talking for two days about how much he wanted to go on one the Swan Boats on the lake. From a distance, these boats look like a relaxing thing to do on a sunny afternoon, but actually they're quite a workout, especially if the wind is blowing against you.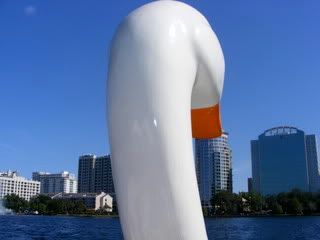 Blaze sat wedged in between us and he loved the ride, but he didn't have to do any of the peddling. DH hated it and I found out just how out of shape I am.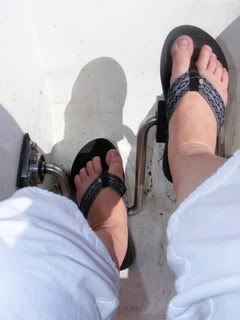 When we got back to shore and tried to walk again, it took awhile for my legs to stop feeling like they were made of wet noodles.
Watching the real swans on the lake was really much more restful.