While everyone else in our apartment slept late this morning, I got up early to go stand in line for books.
Today was the opening day of the Alachua County Friends of the Library Book Sale, which is a big deal, because it is the largest sale of it's kind in Florida.
Spring 2009
Book Sale
April 18 - 22
Saturday, Apr 18: 9am - 6pm
Sunday, Apr 19: 1pm-6pm
Monday, Apr 20: Noon -8pm
Tuesday, Apr 21: Noon-8pm 1/2 price day
Wednesday, Apr 22: Noon-6pm 10 cent day
The doors didn't open until 9:00 a.m., but when I arrived at 8:05, there was already a very long line. Every year it's like this. The line goes back and forth, the length of the parking lot and then out onto the sidewalk and down the block. It's like people lining up to get tickets to a very popular rock concert. The people who say print is dead, really should come see this.
This was what the line looked like at 8:05 a.m.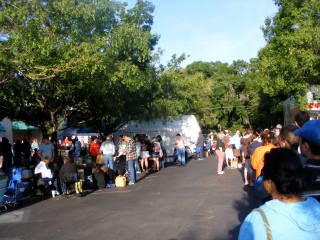 That was not even all the people, because there were two rows of people ahead of the ones who are in the picture, and instantly there were people in line behind me.
This was about 20 minutes later when the line could no longer be contained by the parking lot and was extending down the sidewalk.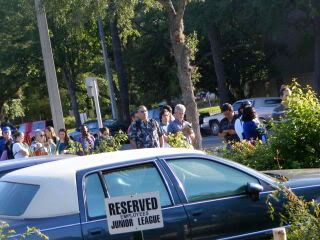 The time passed quickly, waiting in line, because I was surrounded by friendly, talkative people and we had live musical entertainment.
Inside, it is a big dusty warehouse full of used books, most of which are under $3, many of which are only 50 cents or $1.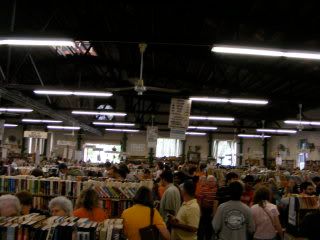 Even though the prices are so low, I usually have trouble staying within the budget I set for myself, because there are so many great things there. I did really well at this sale, though. I only when $1 over budget.
This entire haul cost me $31. The Dangerous Book for Boy cost $7, which is the most I've ever paid for a book at the library book sale, but it's a brand new hard cover book.
What I brought home:
2 games: SMATH (the game that makes math fun) and a wooden Labyrinth
2 DVDs:
A Midsummer Night's Dream
and
The Talking Word Factory
The Dangerous Book for Boys, by Hal Iggulden (hardcover)
Mouse Tales, by Arnold Lobel (paperback)
The Children's Book of Virtues, Edited by William J. Bennett (hardcover)
St. George and the Dragon, Retold by Margaret Hodges (hardcover)
101 Great Science Experiments, by Neil Ardley (Paperback, but looks brand new)
Super Science Concoctions, by Jill Frankel Hauser (Paperback)
Aesop's Fables for Young Readers, A Beka workbook and teacher's guide (paperback)
The Little House Cookbook, by Barbara M. Walker
The Wholefood Harvest Cookbook, by Rachel Hunt
Celtic Folklore Cooking, by Joanne Asala