Travel time and Blaze's many therapies take a big chunk out of our day twice a week, so we've been making our time in the car more entertaining and productive by listening to books-on-cassette. The one we've been listening to this week is
Johnny
Appleseed, Gentle Hero
, which is very well done. It has music, as well as excellent story telling, so Blaze has been asking to hear more of it as soon as we get in the car.
This song, which is sung by a group of children on the story tape, has been stuck our heads all week. Blaze and I both have been walking around the house humming it:
Words to Bill Harley's Johnny Appleseed Song:
All these gifts from just one seed,
The apple, soul and body feed,
Plant a seed and time will show,
That from one seed a tree will grow.
Oh the glorious apples.
In the fall we pick the trees,
All these gifts for you and meet
We eat them cooked. We eat them raw,
We string them; dry them, in the fall.
Oh the glorious apples.
They hang from rafters in your house,
Away from dog, away from mouse
When the winter winds do blow,
You stir them and a sauce will grow,
All the glorious apples
When the snow is on the ground
And there's no food left to be found.
The work you've done will make you glad
For apple butter's, what you have.
Oh the glorious apples
We also read this book: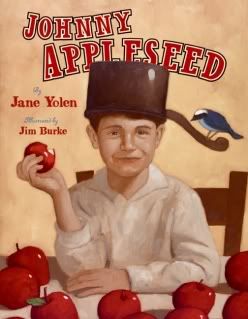 And we each did a wet on wet water color painting of an apple tree in Spring: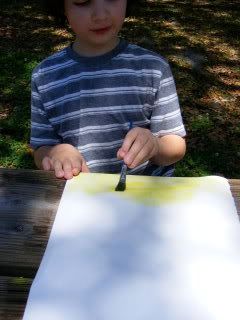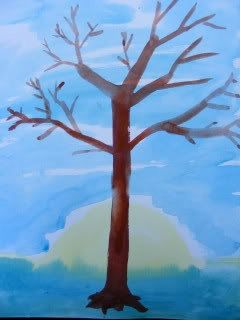 Blaze's finished painting:
My finished painting:
Our background music for painting time: